Relocating to the Netherlands Part 2: Arrival and Housing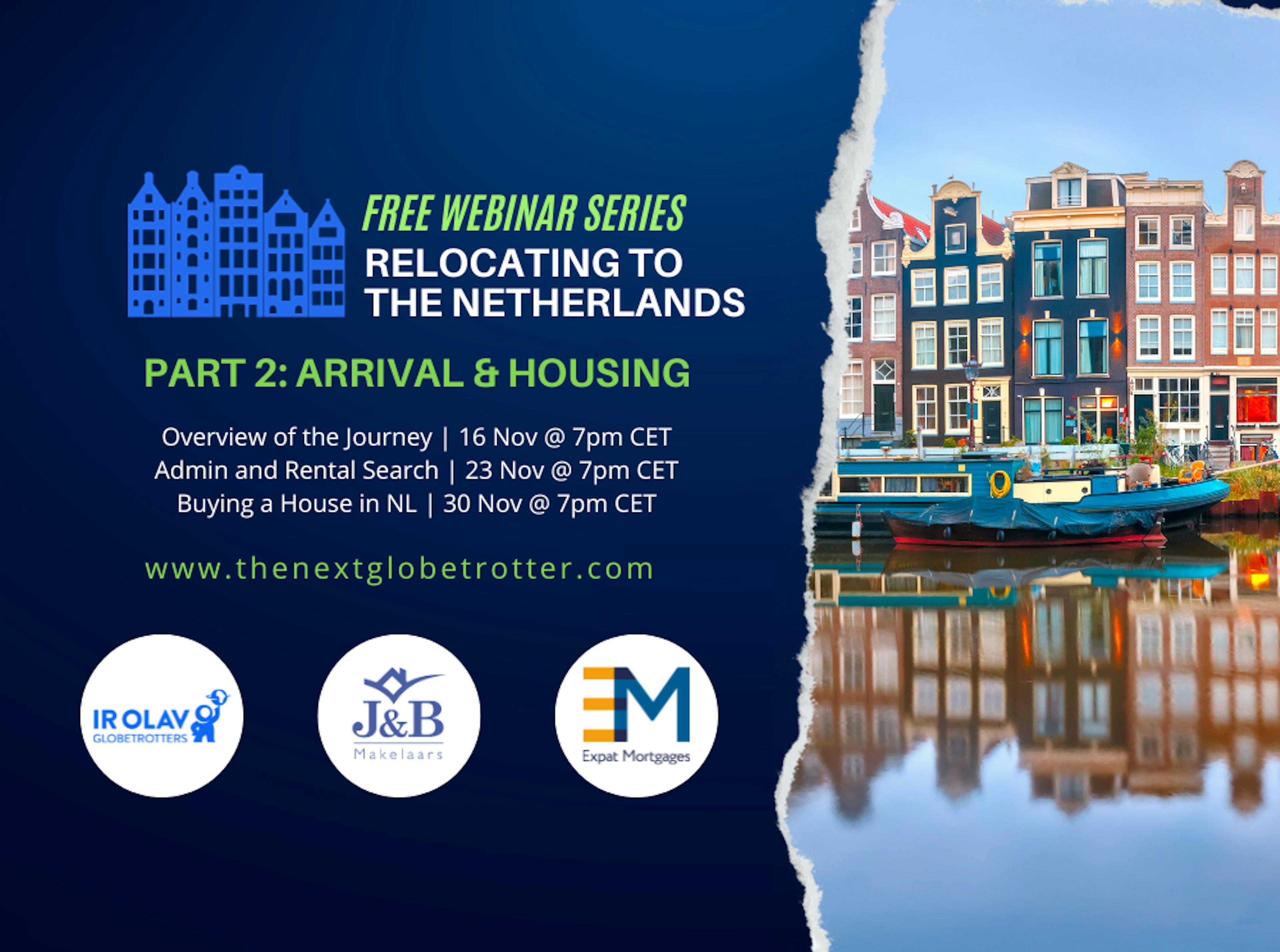 Join us for a series of informative webinars on navigating the housing market in the Netherlands. Whether you're just starting your relocation journey or interested in financial advice for buying a house, we've got you covered.
Registration is FREE and your confirmation email will include the link to join the webinar on the specified date and time (the link will be active once the webinar starts).
We look forward to helping you make informed decisions about housing in the Netherlands!
See you there!
---
Webinar 1: Overview of the Journey | 16 Nov @ 7pm CET
 Hosted by all our speakers, the first webinar acts as an intro to the entire series "Relocating to the Netherlands Part 2: Arrival and Housing" and provides you with an overview of what the entire journey looks like. This will cover:
the "Next steps" that our Globetrotters go through after securing their Dutch work contract,

how to start your rental search before you even arrive in the Netherlands and what to keep in mind,

what administration tasks do you need to complete that are important for securing a rental or buying a home,

why it's important to make use of a financial advisor, and

why making use of a buying agent (aankoop makelaar) is so important.
This overview will help you better decide where in the relocation process you are, what you might have missed and which of the upcoming webinars in the series will have the most value to you.
Journey Overview - Register
---
Webinar 2: Admin and Rental Search | 23 Nov @ 7pm CET
In this webinar, we will walk you through the necessary documents you'll need to gather and appointments you'll have to attend upon your arrival in the Netherlands. We will also delve into the Dutch rental market, offering comparisons against the SA market and providing practical tips for a successful rental search.
Admin and Rental Search - Register
---
Webinar 3: Buying a House in NL | 30 Nov @ 7pm CET
Our final webinar will focus on the financial as well as the practical aspects of buying a house in the Netherlands. This includes understanding how the Dutch house-buying market and process work, your eligibility for loans, various mortgage options, tax considerations, and more.
Buying a house in NL - Register
Brought to you in partnership with: